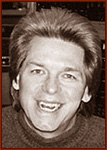 "It goes without saying Warren was blessed by God regarding a beautiful sounding voice and the talent to use it in song. As a man, he was a kind gentle soul with a heart of gold.
Somewhere in the early 80's, David Foster and I were hanging out at a wedding. The band starts playing - David and I both look at each other and mention the singer (Warren) is very good! A few songs later, both David and I are really digging the singer! Allow me to mention this was also our introduction to Bill Cantos. So during the band break, we meet the fellows and shortly thereafter, that was the beginning of Warren's recording career. As we know, David included Warren on many projects and his singing was spectacular. What you may not know is Warren sang lead vocals on many demos - most of these songs were eventually recorded by other artists some became hits. I am hoping David will figure out a way to release those demos as for all to hear. Trust me, you will be amazed!
Warren sang two songs on my last album and his performance was brilliant as usual!
Allow me to offer a Warren story. For those of you that knew Warren, he was kind of shy. I had an idea as to help him "break the ice" when hanging out with people. I spent many years studying card magic slight of hand. When we were working on the vocals, during the breaks, I taught Warren a card trick that does not require slight of hand but is most baffling to the audience. Warren had major fun working on the trick and had the presentation down!
In closing, so sad that Warren is no longer on the planet. The good news is Warren leaves us with so many great vocal performances that can be enjoyed by us and future generations." Jay Graydon
About Jay Graydon...
Jay Graydon has been working with literally everyone in music biz for the last 20 years. He has recorded with many fine artists, including David Foster, Al Jarreau, Steely Dan, Manhattan Transfer, Earth, Wind and Fire, Dionne Warwick, Ray Charles, Cher, Bill Champlin, El DeBarge, Barbra Streisand or Lou Rawls, just to name a few. Jay has also been twice Grammy awarded for the songs "After The Love Is Gone", with David Foster, and "Turn Your Love Around", and 12 times nominated Los Angeles top guitarist, songwriter, producer, arranger, engineer and singer. This multi-talented artist has developed his own style of playing with subtle intelligence as well as technical accuracy. Since Jay is awarded and nominated in so many non-related music categories over the years he probably holds the record of being the most versatile musician in Grammy history, the person with the most diversity out of all the awardees and nominees.