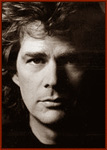 "My wife and I first met Warren at a starlight foundation about twelve years ago. We were walking to the hotel lobby with our friend Burt Bacharach and, all of a sudden, I heard one of my songs being sung. I turned to Burt and jokingly said "See Burt, that is what happens when you really make it as a songwriter." He didn't acknowledge my joke becouse he was zoning in on this magnificent, magnificent and beautiful voice, the voice of Warren Wiebe. I introduced myself to him. He said he just moved here from San Diego, and he handed me a card. It simply said "Singer for Hire". Not an understatement. And from that moment, our lives, both of our lives, changed forever. Warren's and mine. To call Warren a "Singer for Hire" would be like saying the Mona Lisa is a nice drawing or that Steven Spielberg is a guy that makes movies. To call Warren a genius is closer to the the truth He could sing like Nat King Cole, Peter Cetera, Tom Jones, George Jones or Davey Jones. He could also do a perfect Stevie Wonder. Or he could just be Warren Wiebe, which is perhaps the most amazing voice of all. He was pure and innocent and the music poured out of him.
He did demos, hundreds of them, thousands of them, which of us did not end up with a better song after Warren's interpretation of them. He did parties. He did bar mitzvahs. He did weddings. He even sang in our wedding. He helped me with the Barbra Streisand and Johnny Mathis duet. After he put down Johnny's part, Barbra Streisand said "I don't want Johnny Mathis, I want Warren". And that's the truth. Celine Dion did the same thing with "Sleepless in Seattle". "I want Warren to sing with me", she said. I talked actually to Celine a couple of nights ago, and she was heartbroken. She was in tears when she got this news. If you asked Celine who her favorite, favorite singer is in the world, she would say: Warren Wiebe. Celine met with the "Voices that Care" project: Meryl Streep, Billy Cristal, Michael Bolton, Kevin Costner, Luther Vandross, etc. They got to hear Warren sing the closing lines and, of course, everyone was amazed. And then there were the charity events, dozens of them. It was kind of like Warren became my voice. We were kind of like Edgar Bergin and Charlie Mcarthy, only I was the dummy and Warren made me come alive on stage. I can't sing, so I would mouth the words. We performed for everyone and everyone loved Warren.
15.000 people cheering at the Agassi event when he walked on stage becouse they'd seen him the year before, and they knew what they were in for. There was also a command performance for Charles and Diana. Of course, I couldn't do it by myself but Warren, at this point if you remember, was having a very tough time. He was actually in a clinic here in San Diego. I drove down there with my good friend doctor Art Janov in hope of convincing the doctors to let him out to perform for the royal family. The doctors looked at us as if to say "Well, which ward did you escape from?." "Just go on and perform for the queen, it is not a problem." At that point, we were screwed and about to be committed ourselves. This is a true story. I swear to God. I rented a car, I grabbed my portable keyboard, I set it up and I begged for five minutes of Doctor Freuds time. Warren started singing and the shrinks mouth was like this. And of course we made the gig. Lady Diana that night remarked to me how much she had enjoyed Warren's singing, and what a free spirit he seemed to be. I said "Your Highness, you have no idea how free he is." Everywhere he sang he made friends. In fact, music is without a doubt the best way he comunicated. He never forgot a birthday, or an aniversary, Christmas or any ocassion you may be celebrating. He was so child like and pure in so many ways, and yet so complicated in many other ways. He looked at life the way many of us wanted to, but didn't take the time to. It's no secret to most of us that he struggled with the day to day part of living. But he never complained. I never heard him ever have a confrontation or even a cross word with anyone. He was little like Dustin Hoffmann in the Rain Man, or Peter Sellers in Being There. But as we've learned from those movies, perhaps, those are the very, very best people that God puts on this planet. We have all been to memorials before and we all hear the phrase that our loved ones have gone on to a better place. And I don't know about you but in the past that has never ever really comforted me. But in Warren's case, it just maybe true. I think think he will find the peace in heaven that he never found on earth." David Foster
About David Foster...
A visionary producer, gifted arranger and prolific composer, David Foster brings a rare combination of talent, taste and dedication to his work. When he began piano lessons at the age of five in his native Victoria, British Columbia, it quickly became apparent that his talents far surpassed those of other children his age. In 1971, Foster relocated to Los Angeles, and within two years, his group Skylark scored the top ten hit "Wildflower". Throughout the early '70s he built a solid reputation as one of the best session keyboard players in the business. His early production and writing client list included Hall & Oates, Deniece Williams and Boz Scaggs. In 1979, he received his first Grammy Award for writing the hit "After The Love Has Gone" with Jay Graydon. Foster's writing and producing credits expanded to include such superstars as Michael Jackson, Paul McCartney, Lionel Ritchie, Dionne Warwick, Olivia Newton-John, James Ingram, The Pointer Sisters, Art Garfunkel, Kenny Loggins, Al Jarreau, Richard Marx and many others. His self-titled debut release in 1986, his second solo album, The Symphony Sessions, 1988 and the album River 0f Love in 1990, and in 1991 Foster's acclaimed Rechordings was a stunning collection, featuring versions of Foster's best-loved compositions. David is married to Linda Thompson, who is his frequent musical collaborator and co-writer.