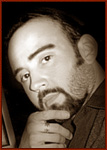 "I was lucky to work with Warren quite a few times. I wrote and produced three tunes with him, "Another Chance For Love" (duet with Jerrie Lynne), "Somebody New" and "Hold You In My Arms" (duet with Janet Dawkins). What a marvelous job he did in these three songs! A year ago I also tracked vocals with him for my new record "The Vibe". That was the last Time I saw him. Warren was such an amazing musician! He always had the right feel and passion for the music. I'll miss him. How did I know about Warren... I guess I heard Sadao Watanabe's "Sweet Deal" record, that was the first time I heard him sing on a track. When I went to LA in May 1994 I saw in LA Weekly that Warren was performing at the Loews Hotel in Santa Monica. So I went there and met him. He gave me his card and so we finally hooked up for "Another chance for love". We did the vocals at Conway Studios with engineer Daren Klein. His performance was incredible!" Urs Wiesendanger
About Urs Wiesendanger...
Urs Wiesendanger, today one of the most busy producers/songwriters in Switzerland, has been playing piano since he was four years old. With five years he started playing Boogie Woogie on his Dad's harpsichord. Then he also picked up the drums while starting to take piano lessons. At the age of eleven he started jamming around in local Jazz Clubs, forming his first Trio with thirteen. By the time he was fourteen he was invited to tour with the Swiss Radio Big-Band as a special guest. While continuing playing with several bands his interests shifted more and more to recording and producing music. Among many others, Quincy Jones, David Foster, Robbie Buchanan and Jeff Lorber were his main influences. His passion and strenght lies in writing/producing influenced by R&B and Jazz. At this time his own recording studio is located in his hometown Zurich, but he keeps on travelling to California. He recorded his first album in 1986 and since then has been working and producing with several artists and musicians like Jeff Lorber, Warren Hill, D.J. Bobo and many more.