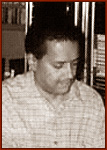 "Warren was a great singer and amazing musical talent. I was lucky to work with him many times. I specially remember those songs we did for Japanese saxophonist Sadao Watanabe. He was always totally locked into the music and always put out 110 per cent. He was a genius. It's a shame more people could not have heard his wonderful voice. He will be greatly missed here and will not be forgotten ...never! I hope and pray that he has finally found peace." Robbie Buchanan
About Robbie Buchanan...
Robbie Buchanan grew up in Vancouver, Canada, and started playing the piano when he was only five 5. He was soon playing in a solid working band (Soul Unlimited) and working most weekends, doing R&B dance halls and school grads. Then Robbie began to study jazz with Lloyd Abrams, a great teaching giant, and lasted another 3 years in Vancouver, playing in a lot of clubs and bands, doing all kinds of music. Eventually, Carl Graves with whom he had played for many years in Vancouver bands (with Brian Newcombe and Peter Padden), that had moved to LA to sing with Skylark (David Foster's band), called him to come to LA to write with him. In 1978, he auditioned for a movie called "The Rose" and got the part of the keyboard player in the band. Getting to work with Bette Midler and doing the movie itself was an awsome experience for him. In 1980, he formed the Maxus band with Jay Gruska, Mark Leonard, Doane Perry and finally, after several different guitar players, Mike Landau. From there on, he's been very active as a session player, playing on records by many, many artists.