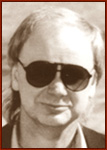 "I have known David Foster since we were teens in Victoria and started playing with him again in 1986, when he started his Charity Foundation, and wanted players from here to be a part. Warren started coming up for those in 1987, as Dave had found "his" voice in him. Of course, we were all blown away when we heard him. We did a charity show every year up to 1994 as well as some other Foster gigs, as Dave quite liked his "Canada Band". Also in the early-mid 1990's, Warren and Dave came up here to be for a few years on "The Variety Club Telethon" (as we were the "house" band as well.) One time Warren sang "Paint The Color of My Love", which was just the best version ever! We did spend time together at various functions, and I quite liked his uniqueness. He thought I was a great bass player, and really liked my MIDI Bass setup (a bass guitar that can play keyboard/moog bass sounds.) He never talked about his own bass playing, and surprised us all at how good he was, the only time he played at one of the Foster Charity event jams that happened. We all here, were so very saddened, by his untimely demise." Brian Newcombe
About Brian Newcombe...
Brian Newcombe recent credits include many live dates with David Foster, Celine Dion and the Atlanta Symphony, Richard Marx and the Chicago Symphony, with LA session greats such as Greg Philingaines, Mike Baird, Dave Boruff and Paul Jackson Jr.; and also on other events, backing Bryan Adams, Kenny Loggins, Michael Bolton, Sheena Easton, Boz Scaggs, Peter Cetera, Chicago, Kenny G and Kenny Rogers. His recent sessions include "The Colors of Christmas" CD for LA Producer/Arranger Robbie Buchanan, featuring tracks with Peabo Bryson, Philip Bailey, Melissa Manchester, Oleta Adams and Jeffrey Osborne. Also for Robbie Buchanan, Peabo Bryson's "I Wish I Could" off his new "Unconditional Love" CD. Brian's on the title track "Destiny" on Jim Brickman's new CD, as well as Brickman's "Your Love" with Michelle Wright. He also has a track entitled "If She Only Knew" on 98 Degrees CD. In Canada recent sessions include Kim Kuzma, The Cruzeros, Shari Ulrich, Alpha Yaya Diallo, Paul Hyde, Kenny Wayne, Tim Hearsey, Ratchel Matken, Sean Hogan, Gary Fjellgaard, Valdy, Gilles Parenteau, and Bill Tonsaker.