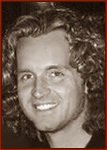 "I remember seeing Warren playing bass and singing in a club called the Turquoise Lounge in San Diego back around 1977 or so. I had a friend who told me I *had* to hear Warren so we went down to the club. I was completely blown away at what I heard and saw. The only problem was I had to watch and listen from the front door. I couldn't go in. I was 16 years old! When I finished the "Chicago 18" album I remember David Foster and Humberto Gatica going nuts over this singer they discovered. I was very proud to tell them I had known of him for about 10 years before they found him. I guess you could call it San Diego pride. I ran into Warren shortly after Foster found him and I did few sessions over the years as a background vocalist. I always had a wonderful time with him and we'd talk about our friends from San Diego we had in common, Mike and Mitch Thompson. One of the last things I did socially with Warren was go to get some food after a show that we ran into each other at. We were watching a Sons Of Champlin show in 1997 and Warren, Brian Price and her wife Barbara, and a lady friend of Warren's went to grab a bite to eat after the show. We had a wonderful time that night. I think about him often these days and miss him dearly." Jason Scheff
About Jason Scheff...
Jason Scheff is currently lead tenor vocalist and bass player for the super group Chicago. Jason began performing with his singer/pianist mother at the age of 14 and quickly built a reputation and following on the Southern California club scene. At the age of 23, he was invited to join Chicago, playing bass and taking the tenor lead vocals. He quickly won over dedicated, long time fans as well as casual listeners with his electrifying bass technique and soaring vocal range. After 12 years with Chicago, Jason continues to deliver with tender precision, and rocks audiences with his sensational style and powerful voice. In addition to his work with Chicago, Jason is a popular session artist. He has contributed his bass expertise and/or vocals to the works of such artists as Cher, Julio Iglesias, George Benson, Barry Manilow, Kenny Rogers, David Foster, Neil Diamond, The Commodores, Gino Vanelli, Melissa Manchester and Roy Orbison.