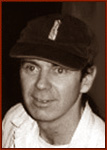 "Almost everyone you talk to has a different story about the incredible talent that Warren possesed. I'm proud to have had the honor to witness this talent up close and personal. For me there is one day that stands above all the rest, that was the day when Warren stood up one sunday morning and walked down to the front of a school auditorium where church was being held and accepted the Lord Jesus Christ into his heart. So many times after that day you could hear him say at the end of a performance, "Goodnight and remember God loves you". Warren grew in the Lord but life's problems weighed very heavy on him. Just weeks prior to October 25th 1998 he made his peace with God. Warren may have lost his last battle, but he utimately won the war. I know by God's word that he is in Heaven and this is not goodbye but just, see you later! For my wife Barbara and I, Warren was a huge part of our lives and we will miss him dearly." Brian Price
About Brian Price...
Brian Price, Canadian Born, moved to San Diego where he studied with Hal Crook, one of Berkeley's top rated teachers, Peter Sprague, and other great players. Brian has performed around San Diego area in numerous bands, one of which was sax player Hollis Gentry of Fattburger. In 1989 he moved to Los Angeles area and started playing with artists such as Tony Guerrero, Jeff Kashiwa from Rippingtons, Greg Vail from Kilauea, Ricky Lawson, Peggy Lee and bass player Max Bennett. Brian has also toured throughout the U.S and Europe with the Crusaders and now currently plays with John Tesh (of Entertainment Tonight). In the down time between tours, he works on Jingle sessions, assorted album projects and writes for music libraries.