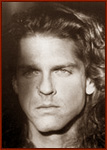 "Warren and I were doing what we love to do the most and that's play music! Sometimes you just work on anything just because you love the idea of performing or recording. Warren Wiebe was the best singer in the entire world as far as I'm concerned. I have some songs that I wrote and warren sings on. He was the biggest inspiration to me. I feel blessed to have my voice on the same tape as the guy. As Leeds Levy said at the funeral, "Warren was a singers singer." Darin Scheff


About Darin Scheff...
Darin Scheff was born on February 15, 1963, and raised in a musical family of which he received his early training. His father, Jerry Scheff, played bass for Elvis Presley. He is the second youngest of four brothers, Todd, Lauren and Jason Scheff, currently lead tenor vocalist and bass player for the super group Chicago. Darin did colaborate with the band a couple of times. In fact, he and Robert Lamm wrote together the song "If It Were You," from Chicago 21. Darin also co-wrote a song called "Everything But You," which appeared on Robert Lamm's album "In My Head". Recently he's been developing internet-based applications, search engines and web sites such as "Business Los Angeles", "Music Map" or the official family web site, "The Scheff Salad". Darin's also working on his first solo album. Some of the musicians that will be appearing on it are his brother Jason, Bobby Kimbal, Tim Pierce and Dave Boruff.