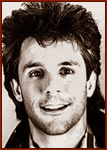 "I knew Warren best through our work with David Foster, some recordings, but mostly live concerts and fund raisers from the late 80's till his passing. The most outstanding memory is that virtually every time Warren was introduced and usually sang LESS THAN 4 BARS OF MUSIC, invariably he almost always got at least giant applause or often a standing ovation! This would happen with sometimes thousands of people in the audience! It was truely astounding! Some of my best memories include thinking how lucky I was, often to be standing on stage, as close as 1 foot from Warren (we sometimes shared the same mike), in complete disbelief as he sang some of the best notes I've ever heard! All I could think was how powerful and incredible he was! Warren also sang two lead vocals for me, one of which should soon appear on my new solo CD. I will sorely miss him." Dave Boruff
About Dave Boruff...
Dave Boruff has appeared on numerous records with major recording artists for the past ten years. These include concerts with popular artists such as David Foster, Kenny Rogers, George Benson, Tonny Bennett, Celine Dion, or Burt Bacharach. Dave has also released two solo albums under the band name Dreamstreet, entitled Dreamstreet, and Dreamstreet 2; No Limit. His television experience includes playing all main titles and end credits for the new cable network America's Talking; in the Grammy and Emmy Awards; and solo performances on such TV shows and programs as "L.A. Law", "Fame", "Welcome Home America", "Cop Rock", "Murphy Brown", "Alien Nation" and "Hunter". Boruff's motion picture soundtrack credits include "St. Elmo's Fire", "Secret of My Success", "Dick Tracy", "Arthur on the Rocks", "One Good Cop", "Roxanne", "No Way Out", "Hello Again", "Teen Wolf", "Three Men and a Baby", etc.