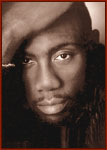 "I met Warren in 1994 when David Foster began forming our group Millennium. We recorded the whole album together which was about 14 songs. Warren was an incredible man with an extremely incredible gift: his voice. I remember he could interpret a song like no other. It was amazing! He now has a song on the new Tevin Campbell album that we all wrote with David Foster. That song is entitled "Everything You Are", and It's a duet with SWV's Cheryl "Coko" Gamble. This song was originally composed for Millenium. We all will miss Warren." Wil Wheaton
About Wil Wheaton...
Blessed with a sensual baritone bass voice. Wil Wheaton Jr. is an extraordinarily refreshing singer/songwriter. Born in Laurel,and raised in Los Angeles, Wil began honing his craft and studied widely, including with Furman Fordham, whose students include Lena Horne. He quickly earned a reputation as an accomplished background vocalist by working with such stellar talents as Michael Bolton, Natalie Cole, Coolio, Celine Dion, Michael Jackson, Quincy Jones, Barbara Streisand, Kenny Loggins, Whitney Houston, Diana Ross, Chaka Khan, etc. In 1995, Wil was selected by David Foster to be a part of a new vocal group "Millennium". Wil wrote and produced four songs on the album with Foster and credits that experience for bringing him to this point in his career. Most recently, Wil has just completed a record project on his own label "Platinum Bass Records".