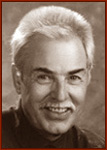 "I met Warren through Brian Price, guitar player with my band. He came down to San Diego to see the band and Brian. Warren sat in and sang a couple of songs with us and I was totally impressed. So when we started to record "Great Expectations", I thought he would be perfect for the song "Why, Oh Why". We stood around the piano while he learned the song and a few days later we recorded it. He wasn't happy with his performance, so we erased it and came back into the studios a week later to record the final version. I found Warren to be easy to work with and very professional. This was the only occasion that I had to work with him. I feel it was a great loss, particularly since he was just getting to the point in his career when great things were happening for him. He had a remarkable and unique voice. We all miss him very much." Max Bennett
About Max Bennett...
Fans and followers of contemporary music need no introduction to Max Bennett. An internationally known bassist and composer, Max has an impressive background and list of credits. The scope of his experience spans from concert touring and recording on albums to composing music for Feature films and television as well as being one of the most famous studio musicians of the jazz genre. Some of the artists Max has recorded with are Marvin Gaye, Barbra Streisand, Anthony Newly, Paul Anka, Elvis Presley, Shawn Phillips, the Four Tops, Nelson Riddle, Frank Sinatra, Frank Sinatra Jr., Frank Zappa, Ray Charles & Cleo Lane, Seals & Croft, Joe Williams, Ella Fitzgerald, Quincy Jones, Billy Eckstine, Kenny Rogers, the Beach Boys, Carole King, Paul Williams, the Fifth Dimension, Steely Dan, Joan Baez, Joni Mitchell, the Crusaders, Tom Scott and the L.A. Express (2 Albums), L.A. Express (2 Albums) and Victor Feldman.