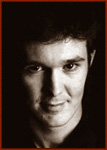 "I met Warren through my working with producer David Foster who discovered him in San Diego about twelve years ago. Warren moved then to LA with work offers from David and others, and soon he was singing bg's on many studio albums. He had a perfect pitch and could learn a song from memory hearing it just once or twice. Warren usually learned the tune the way you sang it first, and then he embellished it with his personality. It was amazing! Regarding my song "Here I go Again", I remember he learned it, went into the vocal booth which was dark, he wanted the lights off, and sang three completely different wonderful tracks. I think I might revisit the other tracks someday because they were so great. One he sang like R. Kelly and the other like Al Jarreau. It's a shame more people could not have heard his incredible voice. I only know I was lucky to record with him. He will be missed by all." Mark Portmann
About Mark Portmann....
Mark Portmann began his musical journey on the piano at age five. He studied with Vince Maggio (Bruce Hornsby's piano teacher) and was part of a class that included such talents as Jon Secada, The Miami Sound Machine, Expose, and country singer Lari White. Armed with a degree and a resume that included performing and recording experience, Mark moved to Los Angeles in 1988. After a month, he joined the well-known pop/jazz group, the Rippingtons. Wanting to focus more on writing, recording and arranging, Portmann left the group. Rather than wait for a record deal, he started his own label, Hands On Inc., and recorded ROADMUSIC, an innovative recording designed for cruising the freeways. Having quickly gained a considerable reputation as a talented producer and musician for some of the biggest stars in music, Mark steps comfortably into the spotlight as a solo artist with his Zebra Records debut, No Truer Words.