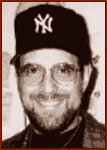 "Warren's was the voice that many artists copied when doing their versions of songs he had demoed: Peter Cetera's "Glory Of Love", Aaron Neville's "Don't Fall Apart On Me Tonight", and many of the Celine Dion, Whitney Houston, All-4-One, Kevin Sharp, and countless other stars' records. He also was heard on the "Candid Camera" theme. I'm sure there are countless other recordings that I'm forgetting, but rest assured that most anything David Foster put out, Warren played a part in. For those of us who knew, worked, and loved him he was simply - great. A voice sent from God that was so sweet you could cry as you listened. He worked many times at my studio. We did the demos for the aforementioned Aaron Neville cut, in addition to "Forever Young", recorded by the Pretenders and Rebbie Jackson, and a slew of others. My only regret is that many of the producers who visit here will not get a chance to work with Warren. He was a true "one of a kind", and I will miss him everyday." Ted Perlman
About Ted Perlman....
Starting out in the business as a guitarist, Ted Perlman has produced, played guitar, and toured with people such as Whitney Houston, Harry Belafonte, Bob Dylan, Diana Ross, Stephanie Mills, The Manhattans, Ringo, Joe Cocker, Chicago, rapper Young M.C., Jonathan Richman, and salsa star Willie Colon. All of this experience has made Ted proficient in a variety of musical styles.
Ted has done extensive work in television and movies. He just finished producing, along with Ken Hirsch, the song "Before We Say Goodbye" for the group "2gether", who were the stars of MTV's first original movie of the same name. He also co-wrote with Ron Dante the main theme and cues for "Full Frontal Comedy", and produced the title song for the new Jean-Claude Van Damme film "Desert Heat". Ted has conducted, played guitar, and arranged music for NBC, CBS, ABC, Fox, and Syndicated networks - "Good Morning America", NBC "Super Bowl" and sporting events, the soap opera "Loving", "Star Search", and others. Some of the products that Ted has done jingles for include McDonald's, Burger King, Korean Airlines, Perrier, and Coca-Cola.
Ted maintains academic and lecturing connections with institutions including UCLA, Los Angeles Recording Workshop, Duke University, and the National Academy of Songwriters. Ted's latest projects are recording and co-producing the new live album for the legendary band "Chicago", and producing the new Manhattans album "Even Now", featuring Gerald Alston and Blue Lovett, along with many special guests such as Billy Preston, Gerald Albright, and the Chicago Horns.