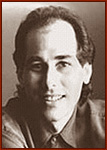 "Warren was a talent that made people say the same thing over and over..."he's so great but he doesn't seem to want to be a "star"... but I sure would love to have him sing on my album." So goes the classic studio singer. Warren was certainly appreciated by so many great people in LA, especially David Foster who kept him busy on lots of projects. Always unassuming and slightly disheveled, Warren would open his mouth to sing and blow people away with his soulfulness and power. He did his usual incredible performance on Mike Gealer's "Father to Son" and was always modest to a fault about his talent." Gregg Karukas
About Gregg Karukas...
Gregg Karukas is one of those rare smooth jazz artists whose unique sound and natural approach to both composing and performing encapsulate all the charms, appeal, and excitement of his genre. A native of Washington D.C., Gregg moved to L.A. in 1983, hoping to expand his multi-keyboard style by playing with other artists. In the mid-'80s, he cultivated long term friendships and professional associations with, among others, Richard Elliot, Brenda Russell or David Benoit. In addition to his career as a performing musician, Gregg has produced tracks for artists such as Phil Sheeran, Mike Gealer, the Pointer Sisters or Brian Bromberg. As a songwriter, his tunes have been recorded by George Benson, Deniece Williams, Kenia, Pauline Wilson and many others. Gregg has also released four solo albums, which features an all-star cast of musicians, including Boney James, Richard Elliot, Dave Koz, Eric Marienthal or Everette Harp.