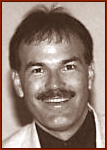 "As a sax player I always admired and related to Warren in the way his voice was a solo instrument. The changes in tone and feelings were his unique way of communicating. I never did do any tours with Warren but did come in contact with him occasionally at a few sessions. Unfortunately recording in the 90's with all the "layering" doen't allow for a lot of contact with other musicians. Many times we have to read the liner notes to see who played on the project! I may have only seen him a handful of times. The last project I worked on with Warren was "The Rat Pack" (The story of Frank Sinatra, Sammy Davis Jr. and Dean Martin). What a marvelous job he did in that performance! The entire music industry will miss Warren and he will never be replaced in our hearts." Dan Higgins
About Dan Higgins...
Dan Higgins first distinguished himself as an outstanding saxophonist while attending North Texas State University. He played lead alto in the 1 O'clock band and taught both saxophone and improvisation. Dan has worked with such bands and jazz artists as Bill Watrous, Phil Woods, Quincy Jones, Stanley Clarke and George Duke. As a member of the Toshiko Akiyoshi-Lew Tabackin big band, Dan recorded two albums and toured Europe and Japan. Dan can also be heard on jazz albums with Toshiko Akiyoshi, Bill Watrous and Rosemary Clooney. As a Los Angeles based professional and a member of the "Jerry Hey Horn Section", he has recorded with such noted artists as Frank Sinatra, Phil Collins, Cher, Randy Newman, David Foster, Whitney Houston, Kenny Loggins, Al Jarreau, Roberta Flack, Stevie Wonder, Earth Wind and Fire, Patti Austin, Lisa Stansfield, Barry Manilow and Natalie Cole. Dan is currently an active woodwind player in the film, TV and record industry.