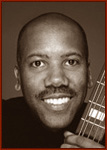 "Warren was one of the most gifted vocalists walking the earth! I am proud to have known him and worked a lot with him. Each year for the last four years we have played the Andre Agassi foundations benefit for children concerts in Las Vegas at the MGM grand arena, with David Foster as musical director. He brought the house down with Stevie Wonder's Signed Sealed Delivered every time. We also enjoyed rehearsing where we could play many oldies but goodies hits and marvel at Warren's performance which usually outdid the original artist. A fellow high school alumni, he said to me (the last time I saw him) that he remembers me playing at a function in the school gym and never forgot how impressed he was with my playing (I first met him at Crawford High School in San Diego in the early 70s.) What a sweet man! Now, he is at peace in his soul I'm sure. Gone but never forgotten." Nathan East
About Nathan East...
One of the world's leading bass guitarist, Nathan has recorded, performed and written songs with many fine artist, including Eric, Elton John, Celine Dion, Whitney Houston, Quincy Jones and Sting. With Phil Collins and Philip Bailey, he co-wrote the chart-topping song "Easy Lover". Nathan has appeared on hundreds of albums and in numerous Grammy-award winning performances including Eric's MTV Unplugged and his 1997 Song of the Year "Change The World". He was also co-founder of the group Fourplay (signed to Warner Bros) whose Grammy-nominated albums have earned Gold status and continue to top Billboard's Contemporary Jazz charts. His outstanding contribution to popular music has been recognized with distinctions that include Britain's Ivor Novello Award, ASCAP Awards for songwriting, NARAS MVP for several successive years and MVP at the International Rock Awards.