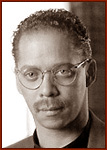 "When I was in the process of recording my 2nd CD, I decided to compose a ballad with a 'message'. I was in the studio recording the rythmn tracks of "This World of Ours" with the musicians when I asked the drummer Duncan Moore, if he had known anyone that could sing the lyrics to this particular song. He immediately said with great exuberance, "I know a cat that is awesome and perfect for the song, his name is, Warren Wiebe". I said call him up and see if he'll do it. I made the call to Warren and he said that he would arrange his schedule to make the 'date'. Now, in the studio, the day of the recording with Warren, the engineer prefaced his remarks about Warren with, "Be ready for this guy, he's a little strange, he talks funny, but his voice is incredible and he will 'blow you away'". Well, here I was in the studio waiting anxiously for this meeting. I decided to walk outside of the studio to catch a breath of air when I looked down the street, when there I saw Warren. A giant of a man approached me and said in a little kids voice (almost like a cartoon), Hi! I'm Warren. We went inside the studio and I proceeded to show Warren the lyrics. He asked me if I would sing it so that he could get a 'feel' for the song. I did the best I could and he took notes on the lyric sheet as I sung the song. He stated to me that he had a 'feel' for it and we should try a 'take'. After he got settled into his headset, the engineer played back the track so Warren could try his first take. What came out of this guys mouth was absolutely beautiful. He made it through the entire song with just one 'glitch'. I wanted to keep the first half of the song because Warren had sung it flawlessly. He wanted to try another take. He said that he could do it better. I said that, that was impossible! How does one improve upon perfection? Anyway, we did another take and again, my jaws dropped in amazement. How could such an angelic voice come from such a person as this. I was stunned by this guys voice! When he spoke, he sounded cartoonish. It was like a Gomer Pyle type of character. Anyway, the woman that is on the song singing the duet part with Warren, Cecily Johnson, told me that he could impersonate other singers, especially, Stevie Wonder. So, I asked Warren to sing part of the 'bridge' like Stevie. When we got to the bridge part, Warren 'whipped' out his Stevie impersonation and again, blew me away! We got through the song and I said to the engineer, "THAT IS A TAKE." Warren still wanted to try it again, determined to make it better. I said no! It was perfect! We finished the song and Warren listened to the playback and said that it sounded like a Disney song. His only critical remark about the song was that he wished that it had 'real strings' behind it. I agreed wholeheartedly but alas, it wasn't in the budget. I paid Warren and said my goodbyes. That was the first and last time that I met this 'gentle' man. I'm so glad that I was able to have him record a song of mine that will remain a favorite for years to come." Pepper Williams
About Pepper Williams...
Pepper Williams was born in 'Motown City', Detroit Michigan. He moved to the San Fransico Bay area where he began his musical odyssey playing saxophone and piano at the late age of seventeen. He started exploring jazz after he acquired his first sax during this time. He eventually went to Cal State University Hayward where he would receive his Bachelor's and Master's degree in musical composition. Pepper has recorded two contemporary jazz CD's. Over the many years of experience, he has also collaborated with renowned artists as Stevie Wonder, America, Benny Golson, Lenny Pickett, Tower of Power, Ronnie Laws, Ray Obiedo, Rodney Franklin, Fattburger,William Kennedy, Gerald Albright, Freddy "Ready" Washington, Benjamin Franklin Wright, Jr. and many more. Pepper is currently working on his 3rd CD, entitled "Wonderful Tonight", that will offer more exciting sax work along with seven new compositions.