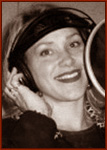 "Warren was my friend and I love him dearly. He was so much fun to be around that I would forget what a great singer he was and just delight in his fantastic company. But when that man would open his mouth to sing, God's own angels would stop what they were doing just to listen. It was truely astounding! Singing with and being with him are two of the highest pinnacles and purest joys I've yet experienced." Amber Whitlock

About Amber Whitlock...
Amber Whitlock is an accomplished singer that currently leads a jazz quartet in the San Diego area. Amber's recording credits include long standing house vocal section leader for the T. K. Studios, Fattburger (Enigma) and Mildred Douglas, Alphonso Johnson's producer (Polydor). Amber continues to add to his musical credits daily and is continually involved in recording projects based in San Diego and L.A. She's married with talented keyboard player Rob Whitlock.