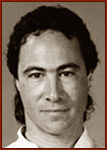 "Warren and I were born on the same day, July 18, 1953. Although I always felt a strong kinship with him, I only discovered our mutual entrance into the world after his passing. His talent was so extraordinary that when he started to sing, he completely mesmerized anyone in that room and sent chills down every spine. A unique character in every possible way, Warren touched everyone he came in contact with and was loved in return. I hope he has found his peace." Neil Stubenhaus
About Neil Stubenhaus...
Neil Stubenhaus has been a first call session bass player in L.A. for the past 20 years. He has played on hundreds of records, feature films, television shows and commercials. He has recorded with many fine artists, including Patti Austin, Anita Baker, Regina Belle, George Benson, Michael Bolton, David Benoit, Larry Carlton, Cher, Jude Cole, Neil Diamond, Billy Joel, Al Jarreau, Elton John, Lala Hathaway, Quincy Jones, Glenn Frey, Rod Stewart, Kenny G, Bonnie Raitt, Barbra Streisand, Bill Labounty or Take 6. Neil has also appeared on hundreds of soundtrack albums and has toured with artists like John Fogerty, Larry Carlton, Tom Scott or Barbra Streisand. Neil won M.V.P. Award from NARAS L.A. Chapter in 1987 and has been nominated for same award every year since 1980. Neil has also been presented with "Outstanding Achievement Award" from Berklee College of Music Played on over 70 songs and albums.