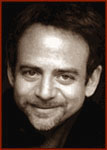 "I was so terribly sorry to hear of Warren's untimely passing. Guess I was away when it happened ...I would have loved to have been at his memorial. Now I can't remember who first turned me on to Warren, but he sang three demos for me. One for the movie "Forget Paris" back in 1993, one for a film called "Heart and Souls" in 1995, and then another entitled "What Makes a Family" for the movie "Stuart Saves His Family" (also in 1995). Luckily, his vocal remained in the "Stuart Saves His Family" movie, cause the end results on the other films never matched Warren's performances. His passion and his voice were one of a kind, and I will always cherish the short time I spent with him." Marc Shaiman
About Marc Shaiman...
Four time Academy Award nominee Marc Shaiman has composed and/or adapted music, and/or arranged music and/or served as music supervisor for over 35 films, including South Park: Bigger, Longer and Uncut, Patch Adams, Simon Birch, George of the Jungle, Bogus, The First Wives Club, Mother, The American President, Forget Paris, Stuart Saves His Family, North, Speechless, Sister Act 2, Addams Family Values, Sleepless in Seattle, Heart and Souls, Sister Act, The Addams Family, When Harry Met Sally, etc. Marc has also been nominated for two Emmy Awards. He actually won one! As a composer, lyricist and/or arranger, Marc's television credits include From the Earth to the Moon, The Academy Awards, Emmy Award, Saturday Night Live, Emmy nominee, and numerous HBO Specials. Marc has also appeared as a guest on The Rosie O'Donnell Show, The Tonight Show with Jay Leno, and Late Night with Conan O'Brien, as well as behind the great, the near great, and the lame, on every possible talk show on the air. Of all Marc's "broadcast" work, it is his contributions towards, Bette Midler's Emmy Award winning performance, on the final Tonight Show with Johnny Carson, that will always remain a highlight. Performing with her for President Clinton at The White House for the 20th anniversary of National Public Radio wasn't too bad either. Marc has also been nominated for two Grammy Awards. As musical director and/or arranger, Marc has worked with a shocking variety of performers including Peter Allen, Harry Connick Jr., Billy Crystal, Lauryn Hill, Jennifer Holliday, Bette Midler, Barbra Streisand, Luther Vandross, etc. He is most proud to have musical directed "Commitment To Life VII" which featured Tom Cruise, Tom Hanks, Whitney Houston, Angela Lansbury, Liza Minnelli, Barbra Streisand, Bruce Springsteen and Elizabeth Taylor.