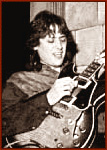 "I remember the day I had Warren in the studio singing "Show Me A Sign". I got goosebumps up and down my spine listening to him bring my song to life. That session to this date is still the most fun I've ever had working in the studio. My wife Leslie and I were behind the mixing console laughing with joy while we listened to that incredible sound coming out of Warren's mouth. When I wrote the song I had Warren's voice in mind and I knew he would kick ass, and he actually did. Unfortunately I haven't been able to get that song into the right hands. It's interesting how fine a line there is between insanity and genious. What a terrible tragedy, Warren's death." Hank Easton
About Hank Easton...
Hank Easton was born in Mt. Vernon, N.Y. and began playing guitar at age five. He studied classical guitar, french horn, trumpet, and music theory at the Cleveland Institute of Music from early childhood until age 17, before earning a B.S. in Music from The Ohio State University. Moving to San Diego in 1985, Hank's artistic fluency and versatility as a guitarist immediately established him as an in demand performer, sideman and studio musician on the Southern California circuit. Hank's first album is entitled "San Diego Sunset". Like a breath of euphonious, springtime air comes San Diego-based guitarist Hank's first CD. Mixing Easton's pop, jazz, rock and blues influences into one seamless, eminently listenable package that fully expresses his myriad gifts as a musician. With catchy, radio-friendly original songs, vocal as well as instrumental, Easton's second release "Show Me A Sign" signals the maturity of an artist whose muse will please fans of many different genres.