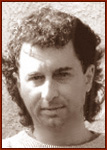 "I worked with Warren until he moved up to Los Angeles about ten years ago. He sang several of my songs and I got to play dozens of gigs with him. His circle of aquaintance obviously shifted when he moved from San Diego to Los Angeles. He was the funniest, gentlest and most multifaceted guy who just plain loved to sing, and sing loud too. Sometimes he'd wear closed headphones on a gig with just his voice and maybe the bass drum in his ears, as he loved to hear himself really really loud. He was quite like a singing machine: you just mention the name of who you wanted him to sound like and presto! Amazing! His mic technique was a treat for the engineer too. And this is all without a single vocal lesson in his life. I don't think he ever practised or studied music, but he was immersed in it from teenage. He never criticised any person or situation, and in a given week, might perform with David Foster and Celine Dion (subbing for Peabo Bryson on "Beauty and the Beast"), and play a goofy gig in San Diego. We all feel a tremendous loss at his passing." Dave Blackburn
About Dave Blackburn...
Dave Blackburn is originally from England and came to San Diego to join a band in 1981. He got a Master's degree in Literature in 1985 and studied composition and arranging at The Jazzschool from 1985 to 1986, a private music school where he met guitar player Brian Price (Max Bennett, John Tesh, etc.) He started building his recording studio around 1989 and getting work as a producer and engineer. He produce mainly singer-songwriter projects and jazz although he has done some New Age projects too. He's taught songwriting courses at the community college level and is married to a superb jazz singer named Robin Adler whose first CD just came out.