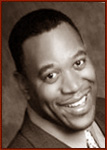 "Warren was a good friend of mine. He was someone I admired as a vocalist. I too am a vocalist. We shared some great, great moments here. He sang some of my songs. He recorded some of my songs, and I'm grateful for that. But more importantly, Warren had a big heart. I got a call one day, he said "I can't do a session with David Foster, can you do it for me?". Of course, the answer was "Are you crazy?". And I got a privilige to work with David Foster through Warren Wiebe. Just recently he sang on the Evan Marks CD "Three Days Weekend", and he performed a song of mine called "Days Gone By". I played that song again a couple of days ago, and I cried. I miss him." Calvin Baugh
About Calvin Baugh...
Calvin Baugh -aka- Calvin Romance is an accomplished singer, composer and keybordist that leads a San Diego area band called "Quiet Storm". Over the many years of experience, he has collaborated with artists like Evan Marks, Fattburger or Patrick Yandall.