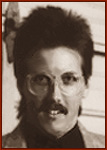 "What an incredible loss we have all suffered in Warren's passing! He was without a doubt the most incredible singer I ever had the opportunity to work with. He was in my band twice, once for about three to four months during the New Shooz period, and then again for about six months after we changed the name to Flight Seven and were working on our debut CD, entitled "Sky High". There are actually five vocal songs on the Flight Seven CD, and Warren was originally on all of them but left the band before the CD was completed. It was decided by the band at that point to have our new singer rerecord the vocals on three of the five songs, and that's how it ended up. He will be missed" Don Anderson
About Don Anderson...
Don Anderson is an accomplished bass player that currently plays and records with different artists and bands in the San Diego area.